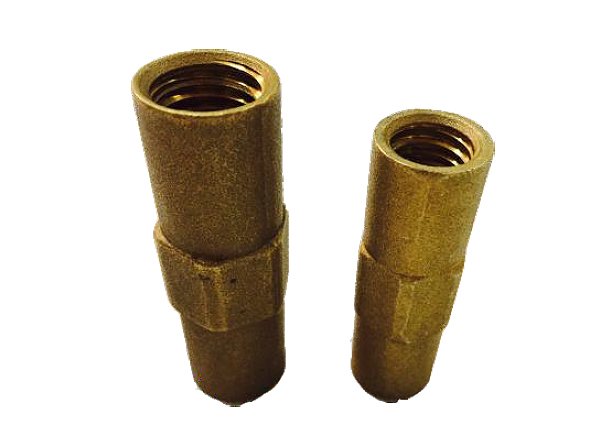 Get Quote's
With superior resistance to oxidization, the copper bonded electrodes offered by us are considered to be the most preferred equipment for earthing. Incorporated with Flat-in-pipe technology, copper bonding and the crystalline mixture filled within the electrode, this type of copper electrode ensure cost effective grounding system. We manufacture these electrodes in variety of sizes and specifications keeping in mind the diverse grounding requirements.
A stroke of lightning causes the generation of fault current that has a high potential to damage the electrical gears. It damages electrical systems as well as human life also. Hence, the grounding or earthing system has become quite indispensable to scatter away the fault current that keep precious electrical and electronic equipment safe and secure.
Made by molecularly bonding 99.9% pure electrolytic copper onto a low carbon steel core. Highly resistant to corrosion, and because the steel used has a very high tensile strength, they can be driven by power hammers to great depths.
Rod To Cable Clamp are the ideal driven earth electrodes, as they offer the installer an economical and efficient earth rod grounding system. pure electrolyte copper is uniformly molecularly bonded into a high tensile steel core to a minimum thickness of 0.254 mm, thus ensuring excellent corrosion resistance and eliminating electrolytic action. Coupling threads are formed by a rolling process to ensure thread strength and to maintain the integrity of the molecularly bonded copper.
Features
CPRI Tested
It is long-lasting and free from maintenance
Unique manufacturing process ensures uniform copper coating thickness
It is easy to install and is unbreakable
Corrosion free while providing the lowest resistance to ground
Variable choices are manufactured in order to meet the customers demand
Convenient installation and very beautiful appearance.
Purity of the copper is 99.9%. Thus the conduct ability is very good.
Advantage
Corrosion resistant surface
Excellent electrical and thermal conductivity
Advanced technology with effective engineering
Easy to install
Industries
Electrical Industry
Cements Industry
Electrical Contractor
Electrical Equipments
Manufacturing Industries
Sugar and paper Industry
Petrol & Chemical Industry