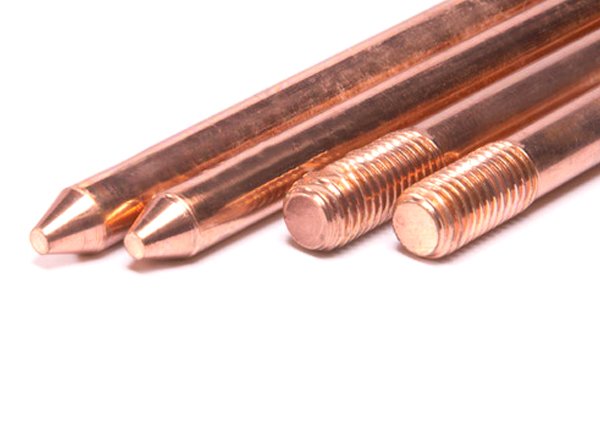 Get Quote's
Nexus Metal & Alloys manufactures, exports and supplies Solid Copper Bonded Rod which are Pure Copper Bonded Rod which is produced using 99.9% immaculate electrolytic copper. Solid copper rods offer more prominent resistance to corrosion. They are preferably utilized as a part of utilizations where soil conditions are exceptionally forceful. Pure Copper Bonded Rod are of two sorts such as Externally threaded and internally threaded. Solid Copper earth bars are utilized where the variable of corrosion is high and incredibly long life is required.
The products are manufactured and tested to International Standards, under strict supervision of highly qualified technocrats to satisfy and meet the most critical demand of reputed industrial users worldwide. Solid copper ground electrodes are utilized when better conductivity and corrosion resistance is favored. Because of non-abrasiveness of solid copper, care must be taken when driving electrode.
Pure Solid Copper Earth Rods are the ideal driven earth rod as they offer the installer an economical and efficient earth rod grounding system. We offer different types of earth rods like Air Terminal, Taper pointed with threading. Threads on rods are internal or external threaded.
Specification
PRODUCT CODE
INTERNAL THREAD SIZE (MM)
DIA(MM)
LENGTH(MM)
WEIGHT(KG)
NCS1612
M10
16
1200
2.05
NCS1615
M10
16
1500
2.50
NCS1618
M10
16
1800
3.00
NCS1624
M10
16
2400
4.00
NCS1630
M10
16
3000
5.00
NCS2012
M10
20
1200
3.35
NCS2015
M10
20
1500
4.20
NCS2018
M10
20
1800
5.04
NCS2024
M10
20
2400
6.72
NCS2030
M10
20
3000
8.40
NCS2512
M10
25
1200
5.20
NCS2515
M10
25
1500
6.50
NCS2518
M10
25
1800
7.80
NCS2524
M10
25
2400
10.40
NCS2530
M10
25
3000
12.95
Features
CPRI Tested
It is long-lasting and free from maintenance
Unique manufacturing process ensures uniform copper coating thickness
It is easy to install and is unbreakable
Corrosion free while providing the lowest resistance to ground
Variable choices are manufactured in order to meet the customers demand
Convenient installation and very beautiful appearance.
Purity of the copper is 99.9%. Thus the conduct ability is very good.
Advantage
Corrosion resistant surface
Excellent electrical and thermal conductivity
Advanced technology with effective engineering
Easy to install
Industries
Electrical Industry
Cements Industry
Electrical Contractor
Electrical Equipments
Manufacturing Industries
Sugar and paper Industry
Petrol & Chemical Industry