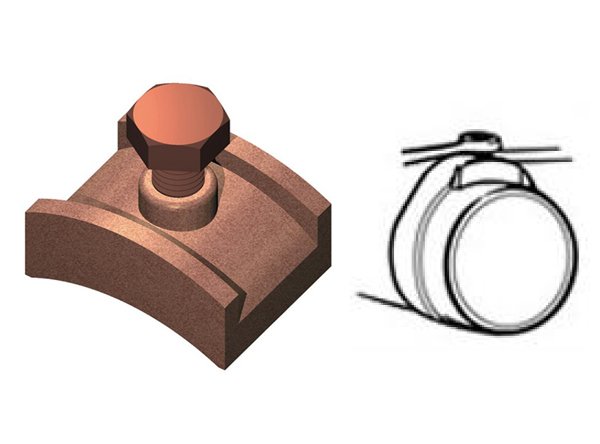 Get Quote's
Nexus Metal & Alloys manufactures, exports and supplies Watermain Bond Clamps which are utilized for holding copper tape to water main pipes. These are used for bonding copper tape to water main pipes
Watermain Bond is a single compont synthetic high strength adhesive developed for sticking all kind of natural and artificial leather, rubber, sponge, textile, wood etc. It is an excellent product for shoe, automobile, furniture industry etc. It bonds any two materials in which one of them should be porous i.e. wood, glass to wood, pastic to wood, Stone to metal etc. Drying time -5min., curing time -24hrs.
Specification
| PRODUCT CODE | CONDUCTOR SIZE (MM) | BOLT SIZE | CONDUCTOR MATERIAL | WEIGHT (Kg) |
| --- | --- | --- | --- | --- |
| NWMB26 | 26 | M10 | COPPER | 0.15 |
Features
CPRI Tested
It is long-lasting and free from maintenance
Unique manufacturing process ensures uniform copper coating thickness
It is easy to install and is unbreakable
Corrosion free while providing the lowest resistance to ground
Variable choices are manufactured in order to meet the customers demand
Convenient installation and very beautiful appearance.
Advantage
Corrosion resistant surface
Excellent electrical and thermal conductivity
Advanced technology with effective engineering
Easy to install
Industries
Electrical Industry
Cements Industry
Electrical Contractor
Electrical Equipments
Manufacturing Industries
Sugar and paper Industry
Petrol & Chemical Industry